Overwhelmed by your workload? Feeling chained to your work and want to break free? Wish you could clone yourself to get things done perfectly?
Your time is invaluable; free up your time and unlock potential for growth, when you implement the tools and strategies from the 6 Levels to Complete the Business Climb.
Start working smarter – not harder or longer.
Start the climb today!
Let's Discover how the Climb can Help your Business!
If you said yes to the questions above, you are not alone. Most business owners feel this way.
That's why one of the first things we do to help you by completing all the checkpoints within each level, you systematically build your business, empower employees, and set yourself free. Our team is well versed in aiding you through each step of this process. See our Empower Employees page to learn more
By successfully completing Levels 1-6 business owners reduce the stress and become free from the business. Boosting efficiency and profits over 85% and building a duplicatable and valuable asset.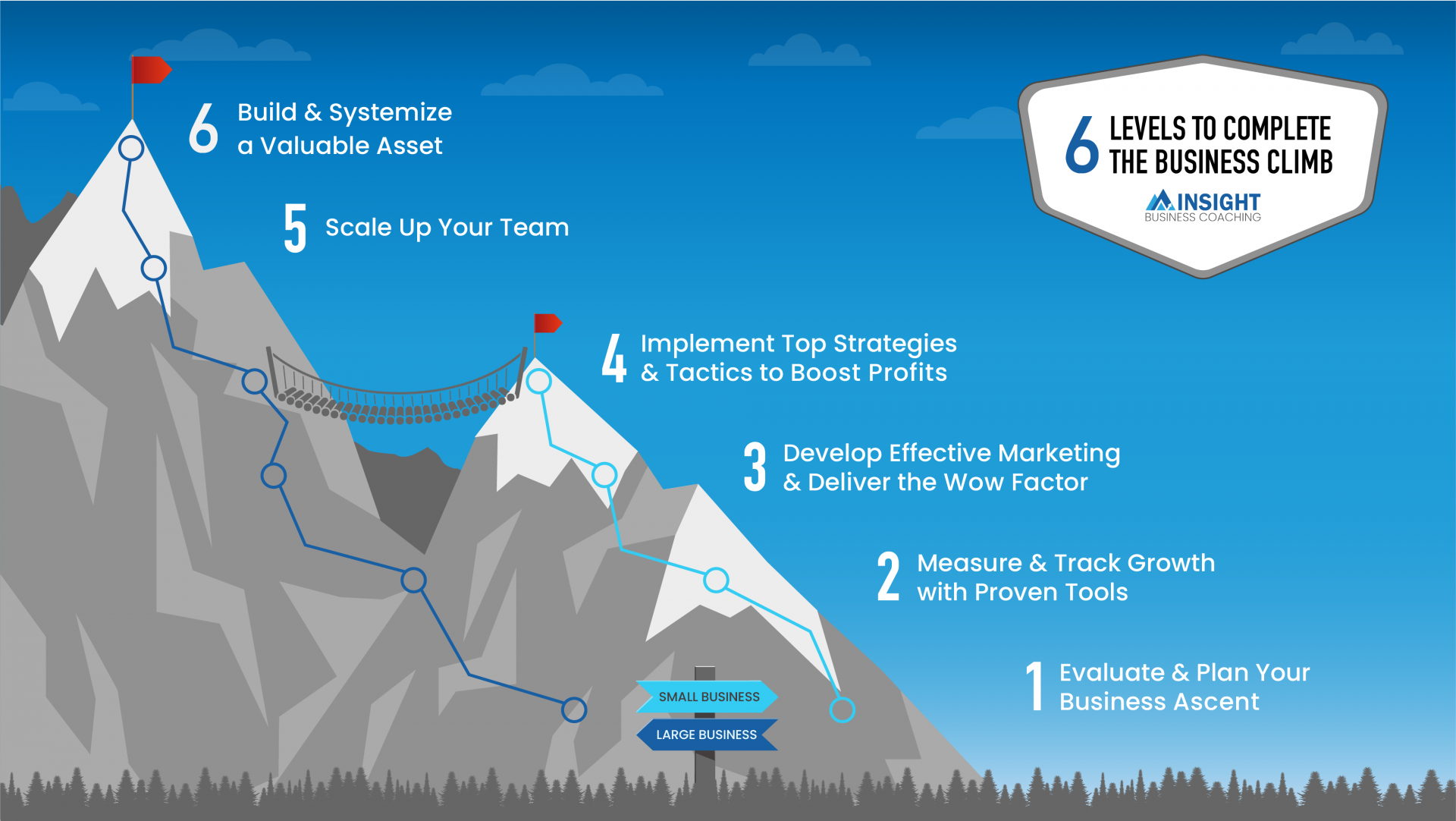 So what is the Climb?
It is a unique coaching tool we use to guide you through the stages of our services. Each level of the business climb is a process, not an event. We'll be training you and your team in smarter ways of working. You'll be working differently — not harder, or longer. This will help create the time you so desperately need to spend on yourself, your family, or growing your business.
Accomplish the checkpoints within Levels 1-4 and Boost profits for growth, leverage people, and achieve more freedom from business.
1. Evaluate and Plan Your Business Ascent
Basecamp – Kickstart the Climb with a Healthy Foundation: You Can't See Where You Are Going without a Map
Businesses will climb through foundational coaching checkpoints that will kickstart and map the ascent for growth.  The master coach will empower the entrepreneurial mindset, evaluate the essential opportunities for growth, and identify the strategies and tools required to improve your business.
2. Measure & Track Growth with Proven Tools
Basecamp – Start Climbing by Managing What you Measure with Essential Scorecards: What You Watch & Manage Grows
Complete the essential checkpoints to Gear Up with Scorecards. Many businesses are surprised that they make money for their business right away by diving into their scorecards. These scorecards help track, measure, and analyze performance; the key to good decision making and strategic growth.
3. Develop Effective Marketing & Deliver the Wow Factor
Energize the Climb with Marketing and Sales:  Set Your Business Apart and Increase Leads
Complete the fundamental coaching checkpoints that will build a turn-key marketing and sales playbook.  Learn and apply the formula to develop a signature differentiation tool, enhancing your marketing message, and discover how to deliver the wow moments to your customers.
4. Implement Top Strategies & Tactics to Boost Profits
Build Up Momentum: Apply Money-Making Strategies to Accelerate Growth
This is where the momentum happens in the climb and accelerates business growth.  Complete the checkpoints that will fine-tune the strategies for a rock-solid Turn Key Marketing and Sales Plan. 
Continue climbing within Levels 5-6 to effectively grow your team and systemize to create a valuable and duplicatable asset; the keys to abundance and freedom.
5. Scale Up a Team
Climb Effectively with a Team: Collaborative growth
Continue climbing and become equipped with essential tools throughout the hiring and onboarding process.  Bring better culture to the workplace and establish role clarity to the new positions and start writing great processes to support the team-building process.
6. Build & Systemize a Valuable Asset
Reaching for the Summit: Systemization to Boost Morale and Productivity
Climb through the checkpoints needed to create processes and enhance systems with a proven 5 Stage Systems Development Strategy.
This process allows executives to replicate the quality services and skills of the organization's key players and create a business that is dependent on processes rather than people.
Master the skills of the business climb!